Best Tennis Ball Machine
Best Tennis Ball Machine
Why get a tennis ball machine?
A Great Investment
A ball machine is a great investment for a tennis school. It will allow you to give more attention to your students and their technique. It is also an excellent experience to train with a ball machine. Browse our options from top brands, such as Lobster and Universal Sport, and discover the many options they can offer, such as oscillation, topspin, backspin, 2 line drill, and more. With these options, you can teach your students all kinds of different new techniques in no time.

Efficiency
Aside from the fact that a ball machine is a good training partner and teaches the students all kinds of techniques, it also ensures increased efficiency. A ball machine can act as a second trainer for each lesson. You can, for example, divide the class into 2 groups, with extra time and attention being paid to one half, while the other half has their hands full with the ball machine that can challenge them in different ways. This means that nobody in the class stands still.

Ball Machine Options
We recommend pressure-less tennis balls when using a ball machine. Why? A pressure-less tennis ball lasts longer and, due to the composition of pressure-less tennis balls, these are more resistant to the rather force of the machine when shooting balls. View our complete collection of pressure-less tennis balls here.
Speed
When purchasing a ball machine, the maximum speed is very important. In general, the speeds can be between 18 mph and 95 mph, or 30 kmh and 150 kmh. Some cannons have a maximum of about 62 mph / 100 kmh, which are intended for beginners and children. Depending on the target audience, you can therefore make an informed decision.
Durability
Durability is an important factor to consider before purchasing the ball machine. Most machines have a battery, which ensures that it can be used at any desired location. However, this battery has different capacities depending on the model you purchase. The battery life varies from 2 to a maximum of 8 hours. It is therefore wise to think in advance about how you want to use the machine and how long it will need to last.
Modes
Variation of ball firing options is of course important to consider before you make a purchase. A basic model might be very cheaper, but as a result often has fewer options, and machines with more options will be more expensive. It is therefore wise to think in advance about how you want to use the machine and to choose the appropriate model based on that. In this way, you won't later feel that your machine is lacking or that there are more options than you need.
Lobster Ball Machines
This is the top model from the Lobster range. The Phenom Two tennis ball machine has everything you can could need from a ball machine and more. This machine offers the option to simulate all kinds of lifelike types of scenarios, you can set training programs yourself, and the machine can reach almost all places on the field. As if that is not enough, the Phenom Two comes with a remote control and you can even control the machine using an iPhone and / or Android.

Pros:
+Pre-programmed and self-programmable training options +Max. ball capacity of 250 +Speeds between 35 and 85 mph (56 en 137 kmh) +Remote control possible






Cons:
-Big investment in terms of price
The Elite Three is the bestseller of the Lobster range.In terms of price-quality ratio, this is the best option. The Elite Three has many similarities with its bigger brother the Phenom Two. It can also be pre-set in a certain direction and the machine can fire balls in different ways, such as with a back or top spin for example. The Elite Three is ideal for both personal use and during a tennis lesson. With its many options and favourable price, this high-quality ball machine will certainly not disappoint.

Pros:
+Random horizontal and/or vertical shooting +Outstanding price:quality ratio +Speeds between 20 mph and 80 mph (32 and 128 kmh) +Remote control possible






Cons:
-Max. ball capacity of 150 -No self-programmable training options
This is the budget model of the Lobster range. The price is significantly lower than the other ball machines in the Lobster line and therefore also has less functionality. This machines is ideal for beginners or when you want to test a ball machines without having to pay a lot of money. The Elite One can be used excellently for, among other things, practising forehand and backhand. With its large battery and different positions, you can practise for hours on end.

Pros:
+Very favourable price +Speeds between 20 mph and 80 mph (32 and 128 kmh) +Lightweight (17 kg)+Remote control possible






Cons:
-Max. ball capacity of 150 -Fewer ball firing options -No self-programmable training options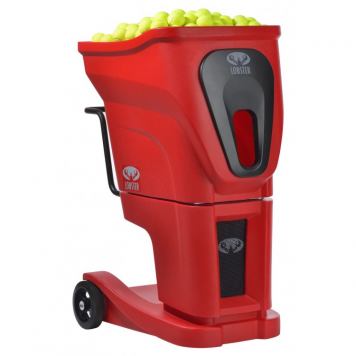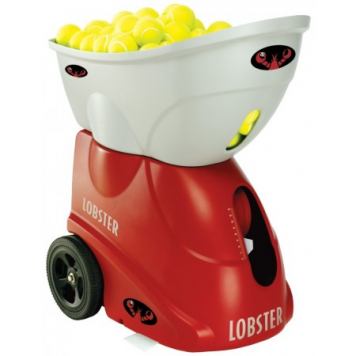 The Lobster Phenom is an all-round ball machine. With this machine, you not only have the possibility to fire the balls with spin, but you can also reach any place on the field. You can set the machine to your preference or use 1 of the 6 pre-programmed training options. With a maximum capacity of 250 balls and a large battery, you can train for hours.

Pros:
+Pre-programmed training options +Speeds between 35 and 85 mph (56 en 137 kmh) +Max. ball capacity of 250+Remote control possible






Cons:
-Big investment in terms of price -No self-programmable training options
The Elite Liberty is the cheapest model from Lobster that has the option for both top and back spin. With this machine, you can practice technique whenever you want, without having to spend too much money. In addition to practising spin, this machine reaches ball speeds of up to almost 70 mph (113 kmh) and the machine can reach both the left and the right corners.

Pros:
+Ver favourable price +Both backspin and topspin options +Lightweight (17 kg) +Remote control possible






Cons:
-Max. ball capacity of 150 -No self-programmable training options
This is Lobster's cheapest model, but it has more options than any ball machine in this price range. This machine can reach 4 different places on the field and it has a large battery for hours of use without needing to charge. In addition, the large wheels on this ball machine and the low weight ensure unrivalled portability. In short, this is the perfect ball machine for beginners.

Pros:
+Very favourable price +4 different horizontal modes +Lightweight (17 kg)






Cons:
-Max. ball capacity of 150 -Fewer ball firing options -No self-programmable training options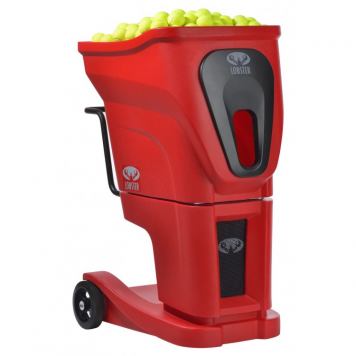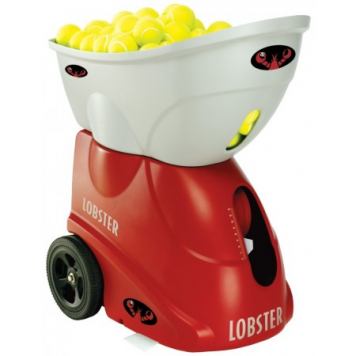 Universal Sport Ball Machines
This is the top model of the Universal Sport range and one of the best on the market. This is due to the gigantic container that holds no fewer than 300 balls at a time. In addition, the ball firing options are endless. Finally, the Smash is also extremely safe. By using sensors, the machine immediately stops if something / someone gets too close to it. The machine is also made from durable steel, which ensures that it will last for years.

Pros:
+Can be set to 7 different directions+Various safety features +Max. ball capacity of 300 +Speeds up to 93 mph / 150 kmh. +Remote control possible








Cons:
-Big investment in terms of price-No self-programmable training options
The Tennis Tutor is the bestseller of the Universal Sport range. This ball machine is ideal for both beginners and experienced players. Because of the different ball firing options, this machine is perfect for training. In addition, the machine is very easy to carry thanks to its compact design. This machine also has a remote control for adjusting your preferences. A max. of 150 balls can be fired before refilling is required.

Pros:
+Random horizontal and/or vertical firing directions +Easy to transport +Outstanding price:quality ratio +Speeds up to 85 mph / 136 kmh. +Remote control possible








Cons:
-Max. ball capacity of 150 -No self-programmable training options
This is the budget model of the Universal Sport range. The Twist is specially made for children and beginners. It can be used in tennis lessons, but also in your back garden for private use. The machine is incredibly easy to use, you simply have to switch it on and it shoots a ball every 5 seconds. You can manually adjust the arch at which the ball is fired. This model cannot be controlled remotely and a maximum of 28 balls can be loaded.

Pros:
+Very favourable price +Ideal for beginners due to max. speed of 9 mph / 15 kmh. +Extremely lightweight (5 kg)+Very easy to use








Cons:
-Max. ball capacity of 28 -No self-programmable training options -Fewer ball firing options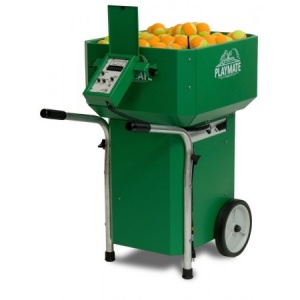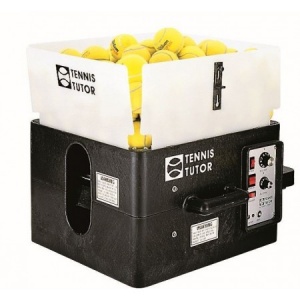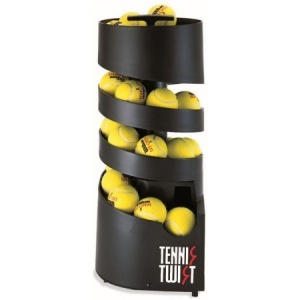 A selection from our assortment: