Stringing Service
Stringing Service
Our Stringing Service
Our stringing service in brief
At TennisPlanet, not all of the rackets we provide are strung. We give the option of strung and unstrung rackets. In both cases, however, it is possible to have your desired racket strung with our own unique stringing service.

Is your racket already strung?
If it is, you can choose to keep the existing string. It is also possible to remove it and replace it with a string of your choice.

Is your racket unstrung?
If your racket is unstrung you can choose to have it delivered this way. It is of course also possible to have your racket strung with one of our high end strings.

We have a number of high quality strings selected for you that you may desire to have your racket strung with. We have created a list of these strings below.
The advantages of our stringing service
- If you order a new tennis racket, we offer you the opportunity to stretch it to your desired tension.
- You can string both an unstrung racket or a racket that already has strings.
- Are you unsure about what tension you require? Check out our advice page for the correct tension of tennis strings.
- You can have your racket also stretched to an average tension. In that case we advise you to choose 25kg.
- Please be assured that your racket is strung with high quality stringing techniques.

If you want to utilise our tennis racket stringing, keep in mind it will be one to two extra days for delivery. This depends on the availability of our stringing service.
Our Selection of Strings
Babolat RPM Blast Black 1.25 mm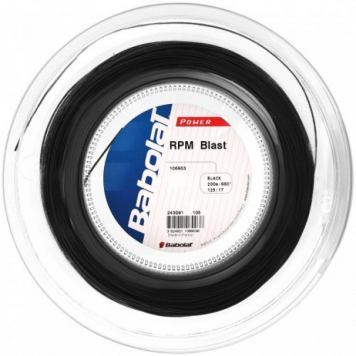 Comfort and Power
The Babolat RPM Blast Back 1.25 mm tennis string is suited for advanced players who love the combination of power and control. The string is made of high density polyester that creates a unique feeling of power and speed. These strings provide dampening of vibrations, which reduces the risk of injury.
HEAD Rip Control Naturel 1.30 mm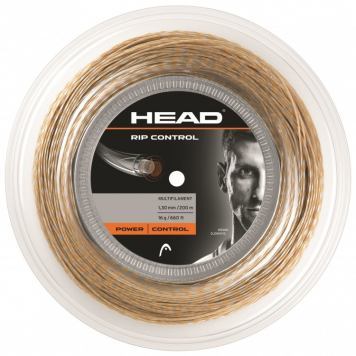 Control and Spin
The HEAD Rip Control Naturel 1.30 mm is a suitable tennis string for players who place great value on ball control. This tennis string uses a special RIP technology that ensures that the belt is virtually indestructible and this provides additional control. Also this string has good durability and dampening of vibrations, which helps to avoid tennis injuries.
Tecnifibre Bob Black Code 1.24 mm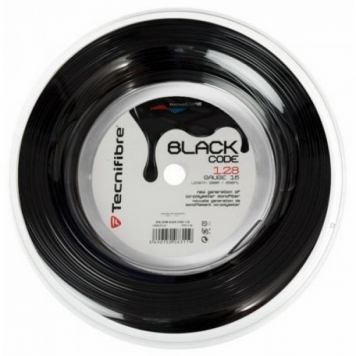 Flexibility and Spin
The Tecnifibre Bob Black Code 1.24 mm is a versatile tennis string with a high flexibility. This is achieved by the 'Thermo Core' technology. The strings are made from 100% polyester flex, which makes for a softer feel. In addition, the strings are pentagonal shaped and this leads to a lot more spin in your battle.